This is taking longer than expected. Looking at the folder of panels I've gathered, it looks like it might be four posts, but that's a conservative estimate.


Some time after all the silliness with the nukes and Scott's unfortunate pirate outfit, Magneto is still nominally a villain, though he reluctantly teamed up with the X-Men and a bunch of other superheroes when they were all updacted by an entity called the Beyonder during the Secret Wars event. The storyline itself is of no relevance, except to fondly look back at a time when big Marvel events that crossed over all the books were a relatively rare occurance, rather than something that happens multiple times a year.

At some point after that, his asteroid home base (yes, he's that kind of comic book villain) crashes into the ocean where he gets rescued by Lee Forrester (remember her from the last post? She of the questionable clothing and dating choices).




Look, I'm sure it was a genuine emergency and Charles didn't time it precisely just so he could cockblock Erik. It's just funny how things work out sometimes.

Even after the Beyonder crisis is dealt with, Erik is still hanging out with Charles and the X-Men, for no reason I can discern (barring the ever-present "Becauses he and Charles are in love", which really goes a long way towards explaining about 80% of their storylines).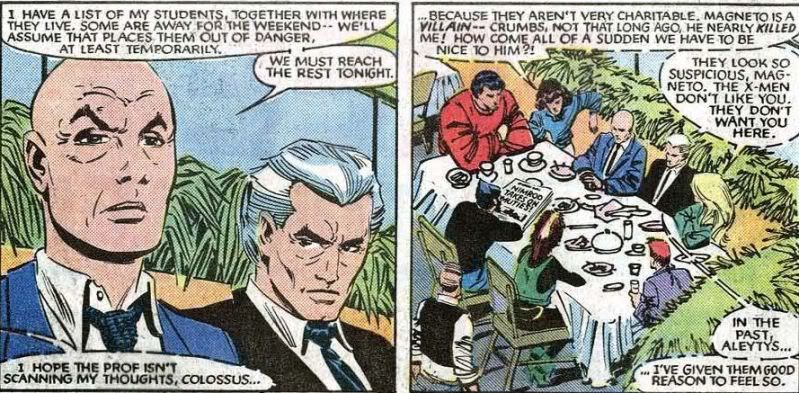 I love how Lee's presence as Erik's girlfriend in no way lessens the "awkward meal where Charles attempts to get his kids to bond with his boyfriend" feel of the scene.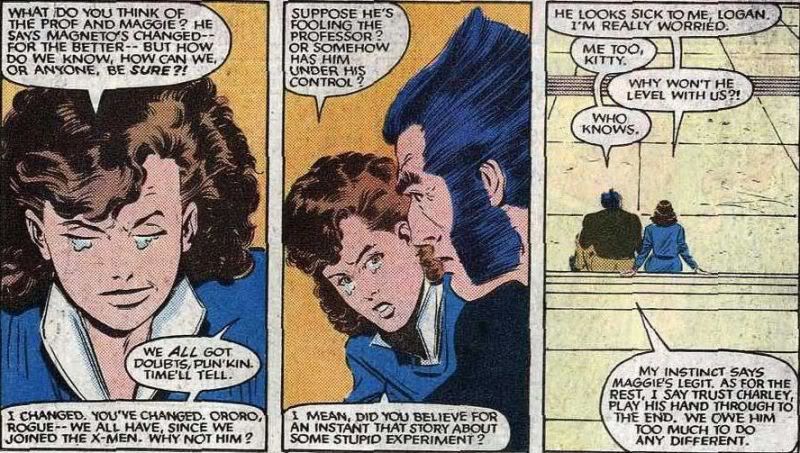 Kitty is understandably confused by all this. Is Magneto controlling the professor? Is it a phase? Is it an experiment? Our little Charles is all grown up!
Wolverine's defense of Magneto feels odd to read now, given some, er, changes in their dynamic in more recent years.

The following panels are not directly related to the Charles/Erik relationship, but they are one of my favorite moments in Magneto's redemption storyline, so I hope you'll indulge me for including them.

Some anti-mutant fanatic students in a University where Xavier is lecturing plan to murder him and almost manage to kill an investigating Kitty, until Rachel, Scott and Jean's daughter from a possible apocalyptic future (...yeah. Look, just try to accept such information tidbits without much explanation, because if we attempt to unravel to Scott Summers family tree, we'll be here all year) interferes in a most impressive and violent fashion.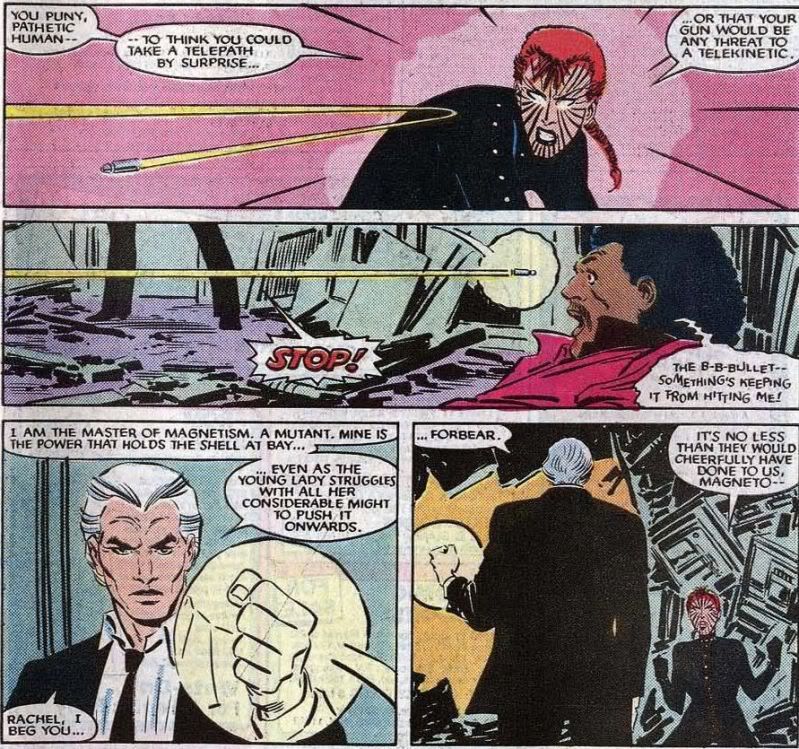 Note to movie!Erik: that's how you stop a bullet.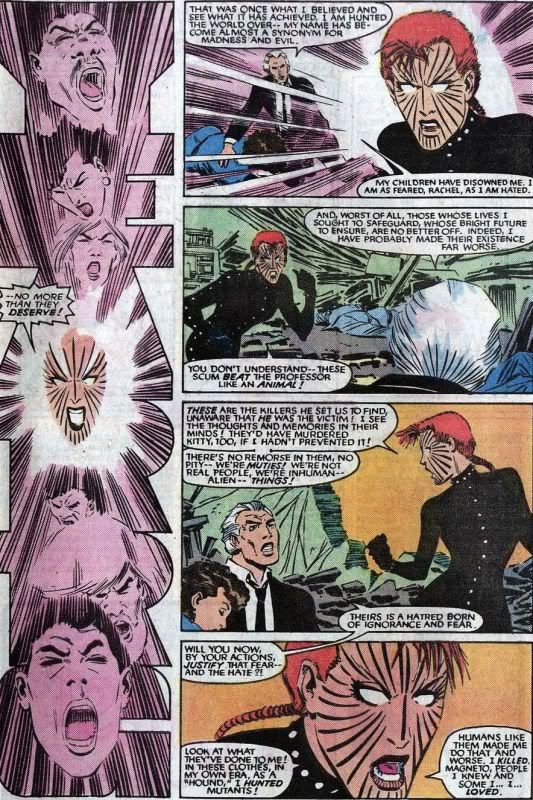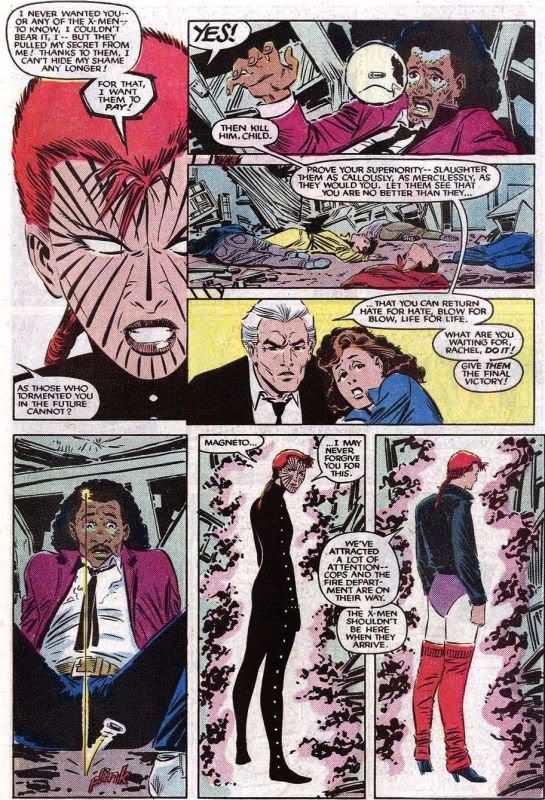 The gravity of the scene is by no way ruined by Rachel looking like she wandered in from a Fame audition. In all seriousness though, this is kind of major, since the future picture Rachel paints is nothing short of Erik's worst fears for mutantkind realises-yet he still finds it in him to talk her off the ledge.

Magneto's turnaround is so complete, he even agrees to submit to a trial for the crimes he commited as a supervillain. I think it goes without saying Charles is in full "stand by your man" mode, even while he is concealing his failing health due to some injuries he sustained earlier.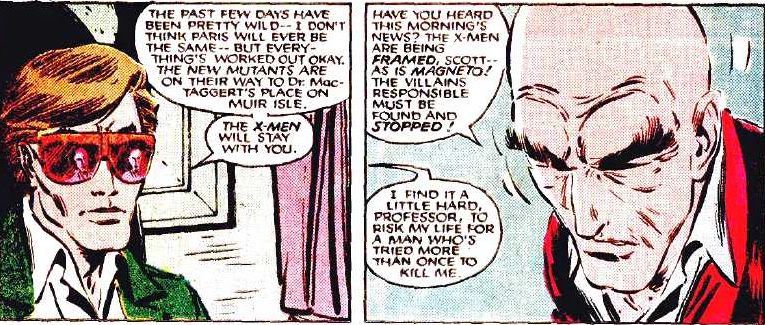 NOBODY ASKED YOU, SCOTT! God, go off and brood robotically in some corner, will you?




I'm including partly because look, Gabrielle Heller (the third wheel from Charles and Erik's early relationship days) and to submit the last panel for your consideration. So basically, Magneto should be in his 80s in current canon, but due to some convenient de-aging, he currently looks...I don't even know. I doubt most of the writers do. I've read some thoroughly geeky analyses which place him somewhere in his early 40s now, but nothing is set in stone.

Does that leave Charles looking like the dirty old man in this pair? Well, it depends. Charles had his whole body rebuilt at least once to my recollection, so while no specific references exist to deaging, you could always fanwank them into looking like contemporaries.

The trial is interrupted by a unexpected!Nazi attack, because I guess that's what happens when Charles, Erik and Gabrielle are in the same room. Eventually Charles' heart can't take all the excitement: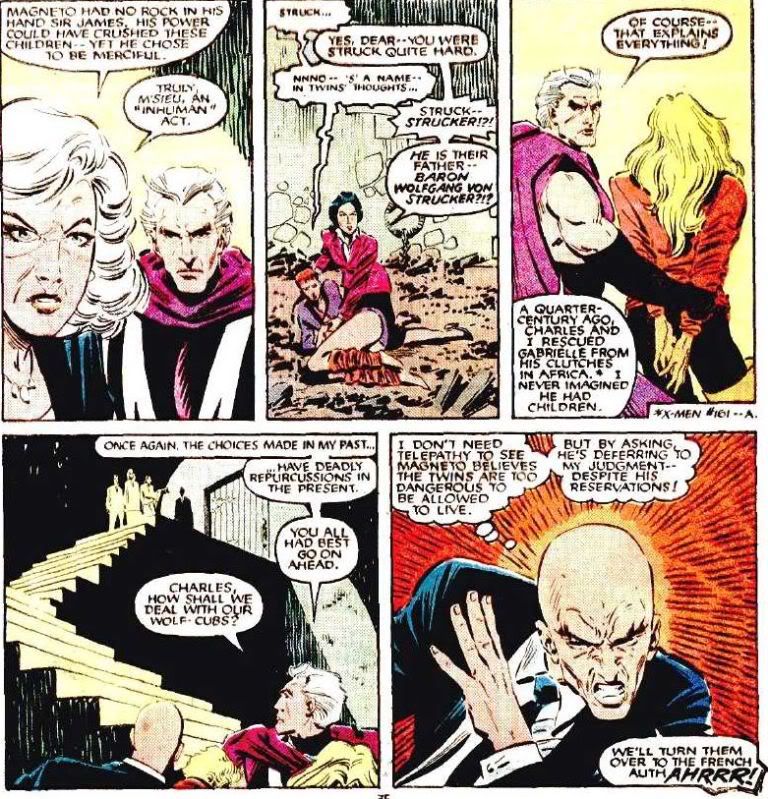 No matter how many times I reread the following, I still can't quite wrap my mind around the fact that it actually happened.




...I don't even know where to BEGIN. "I smell flowers"? Could you sound more like a romance novel heroine dying in the arms of her beloved, Charles? And that last panel-you guys, THAT PANEL! It's making the beach scene from the movie look downright heterosexual in comparison.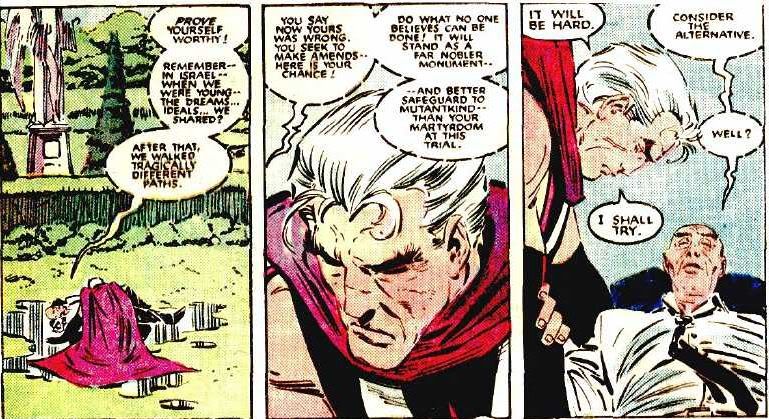 THEIR LOVE IS SO TRAGIC!!!!

...ok, so the tragedy of the scene is somewhat mitigated by the deus ex machina arrival of Charles alien empress girlfriend (no, really) and Scott's space pirate dad (because, why the hell not?) arrive to save Charles life by taking him to space with them.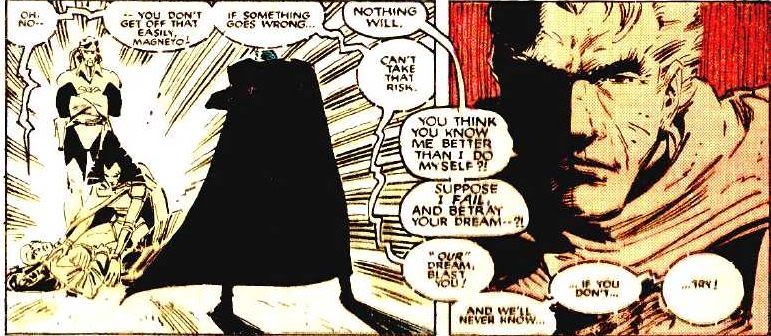 Single emo tear of slashy perfection!

Of course, heartfelt deathbed promises are one thing, getting the students (particularly the teenage New Mutants) to accept Magneto as their new headmaster is quite another. And it's not like he can just use "Because Professor Xavier and I love each other, that's why!" to assert his authority.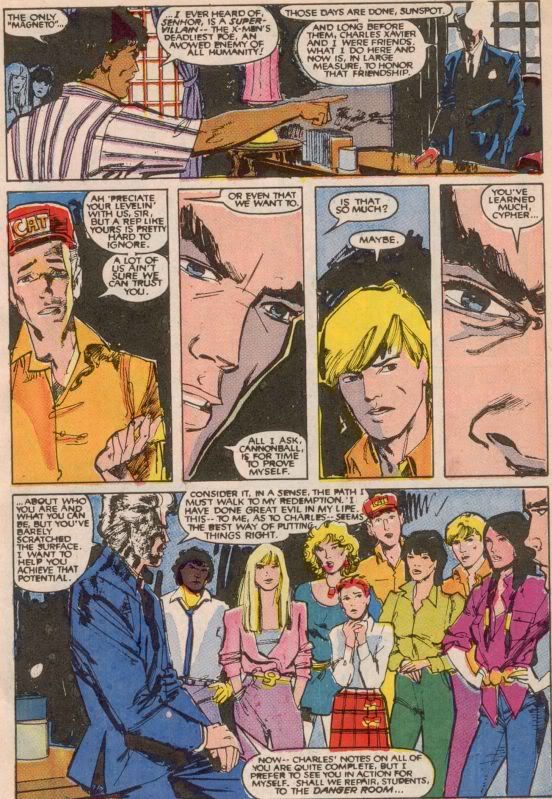 He eventually turns them around by doing some appropriately heroic shit!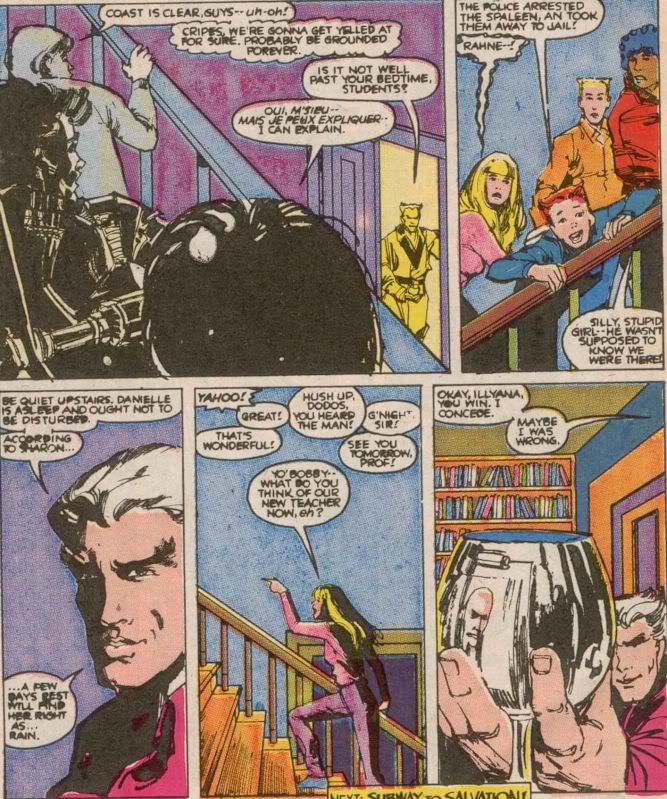 Aw, look at him toasting Charles' portrait in the last panel! It should all be smooth sailing and fluffy Magneto and the kids adventures from now on, right?

Well...not so much. For all that Erik feels protective and affectionate towards those kids, he has NO CLUE what to do with them. His life has simply not prepared him for dealing with teenagers. When they push back against him and endanger themselves, his solution for keeping them in line is using the same subtle tactics that worked on his minions. Neither is the fact that he has two surviving kids in canon (...at that point) excactly helpful, because his kids were his minions. So, yeah. All-around disaster.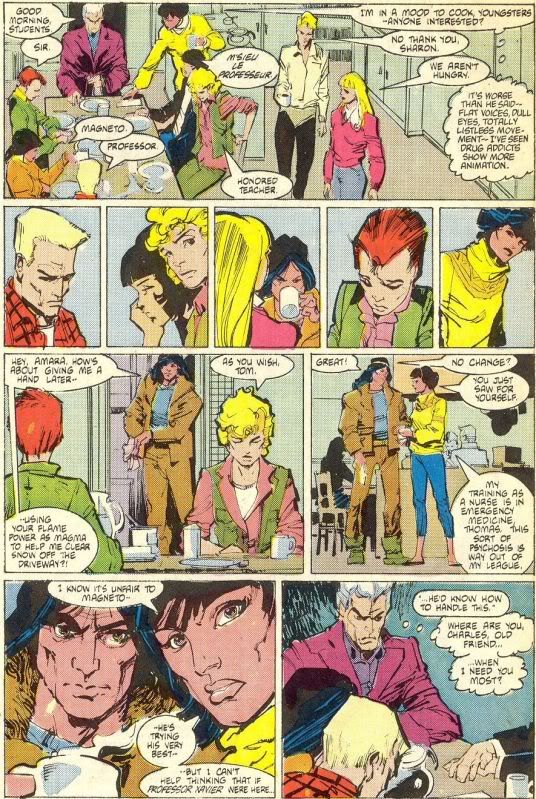 This whole page cracks me up, from everyone's sullen expressions to Erik inwardly cursing Charles for making him a single dad.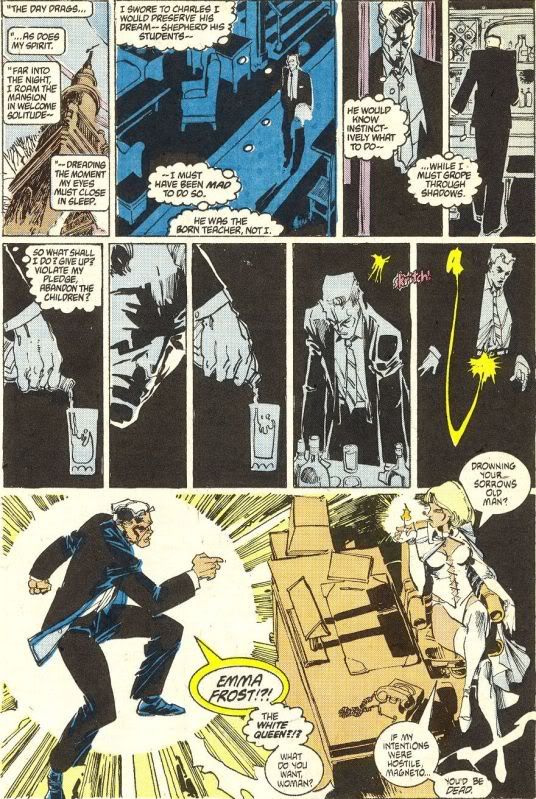 By this point, he's so overwhelmed, he demonstrates a truly spectacular lack in judgment and decides to send them off to an academy run by none other than Emma "so much cooler than in the movies but at that point unambiguously evil" Frost (yes, she's headmistresses of a school. While dressed like that. And yet, it mysteriously took 25 years for someone to crack a "private tutoring" joke in comics canon).




First off, "Michael Xavier"? BRB, LOLing forever! Secondly, there's an epic irony in Eric accusing somebody else of "having a flair for the dramatic".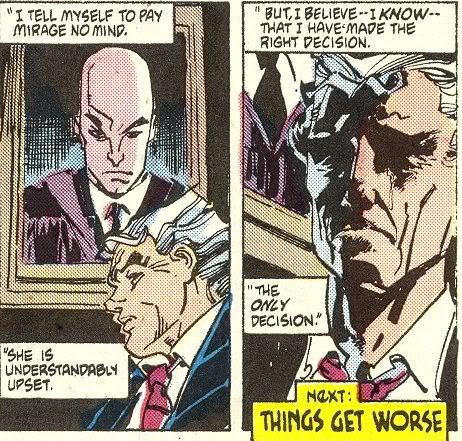 Erik spends a lot of time during that arc drinking and talking Charles' portrait. It's exactly as slashy as it sounds.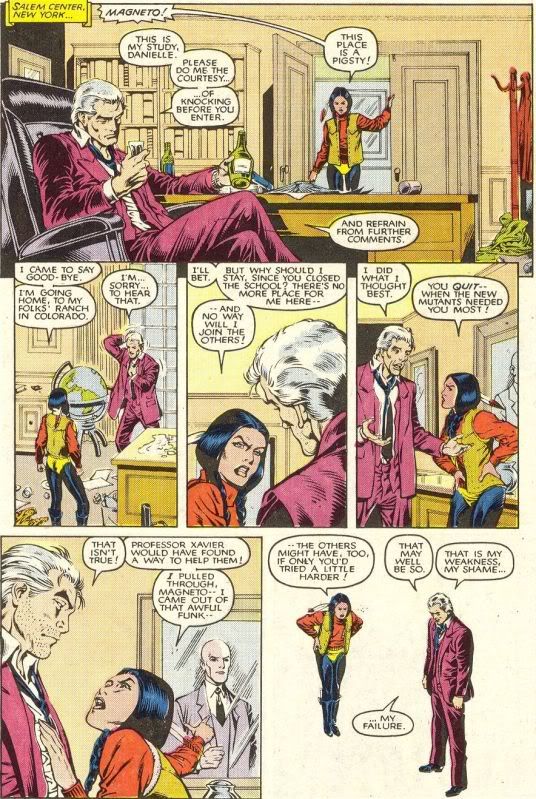 Dani Moonstar has no patience for your self-pity! Because she's a clever girl, she even pulls out the "what would professor Xavier do?" big guns but alas, Erik is clinging to his manpain like there's no tomorrow.

I kind of wish this was the place and time to share some of his interaction with the students, because there were some great moments before it all went to hell. His relationship with Dani was golden, and I have a special love for his moments with Illyana and their bonding over them both being occasionally evil/ruthless.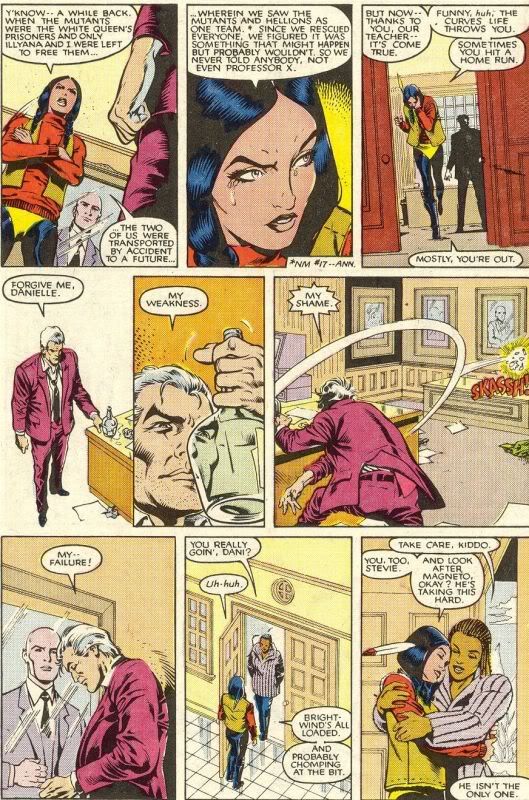 Erik has SO MANY FEELINGS! Also, he's about a shot away from making out with Charles portrait, like a preteen girl with her teen idol poster.

Anyway, things kind of go from bad to worst, ending in death, misunderstandings, with the New Mutants going off to do their own thing and Erik rediscovering his sense of cynicism and bitterness.

I was going to do his next stint as a villain in a separate post, but there's just too much of it. So let's just steel ourselves for some adversarial angst and 90s art and get on with it, shall we?

After spending some time in his newly-build space base in earth's orbit alone with his Many Feelings, Magneto shows up with some newly acquired fanatical followers to the nukes from the submarine he sunk in the previous nukes & submarines storyline he was involved in. Charles and the X-Men are initially surprised at this unexpected development.





Because clearly the best way to have a chat with Charles and Moira is to rip the building they are in from its foundations and hurl it into space. I believe he said something about Charles being dramatic?

And yeah, Charles is back in the wheelchair. Sometimes he walks, sometimes he doesn't-it's a thing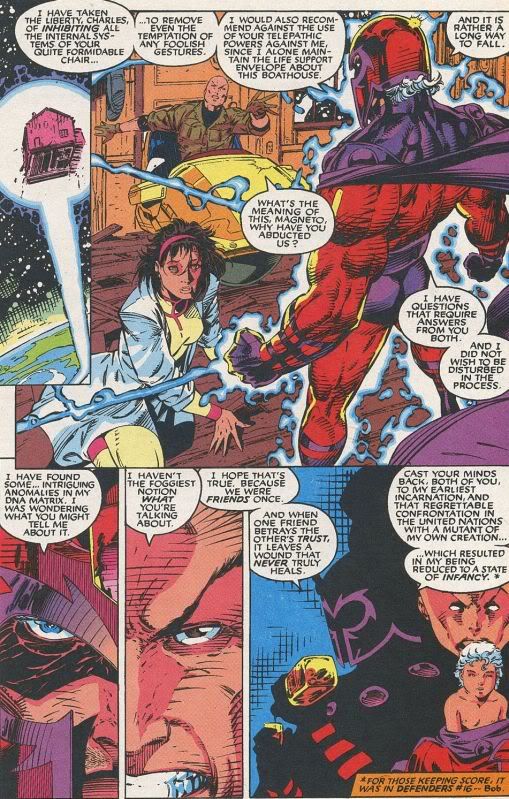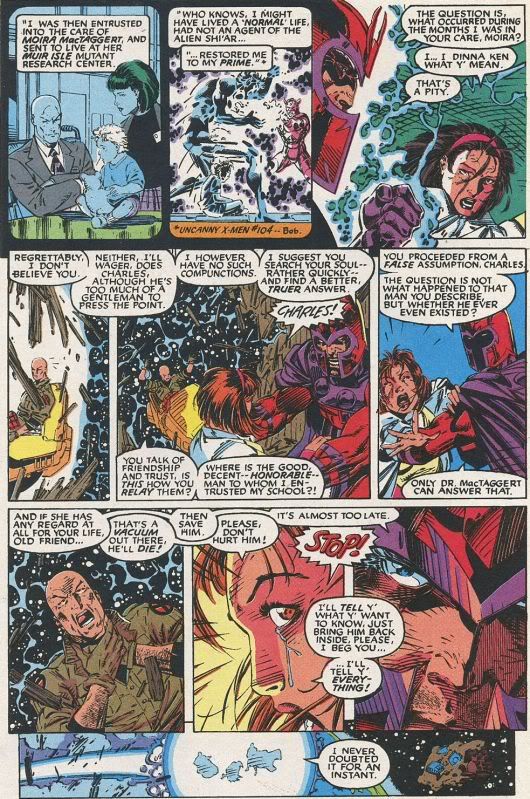 It turns out that Moira did some tinkering with Magneto's genetics while he was a baby, to fix a fundamental imbalance caused by his powers which made him...kind of crazy, in that "mwah-hah-hah, all shall know me and despair!" way. So naturally Erik feels a lot of anger towards her, though of course the true hurt comes from what he perceives as Charles' betrayal.

He recounts his grand plan to Moira (making the classic Evil Overlord mistake) of using a machine to brainwash the X-Men into being his puppets. I wonder if he stays up nights coming up with ways to top the ridiculousness of his previous plans. I bet a lot of drinking is involved.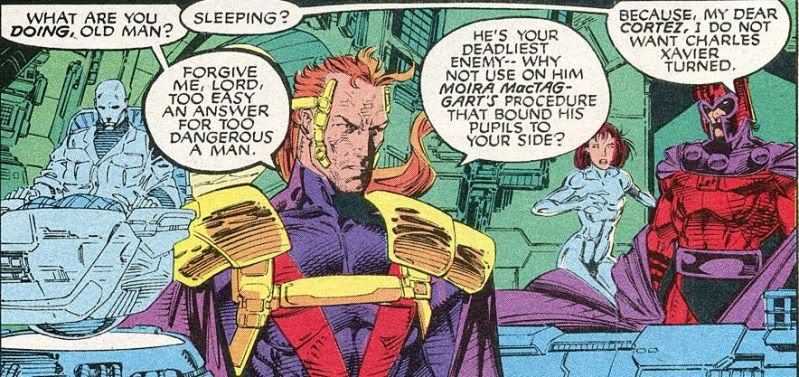 Non-con/darkfic fans, that would be your cue.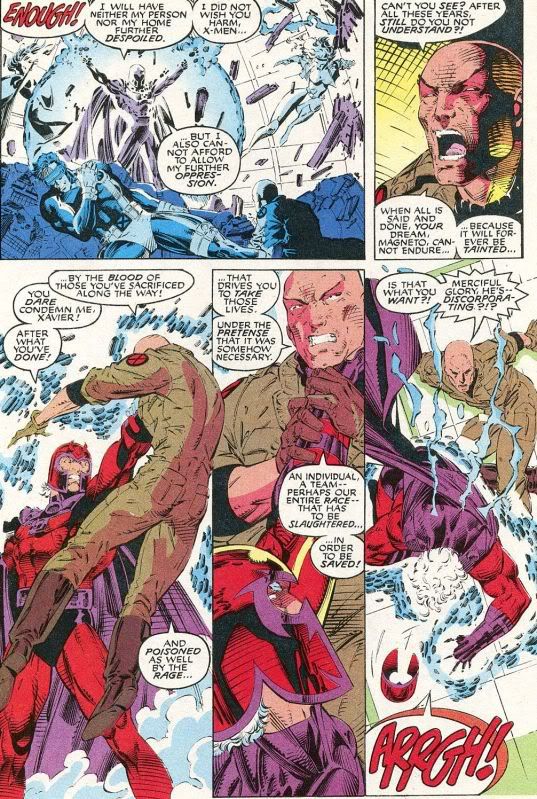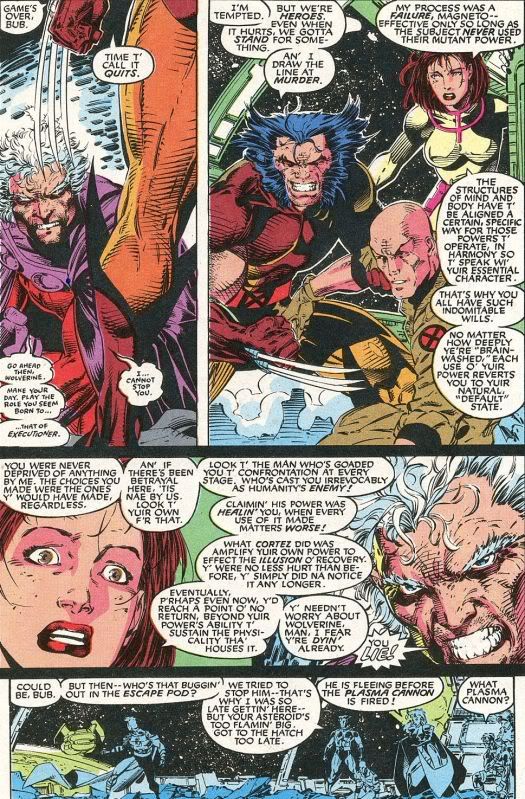 For all that this plotline was clearly conjured to justify the "It'd be AWESOME in Magneto was a villain again!" editorial mandate, it...sort of makes sense to me. With Erik's history and control issues, his rejection of Moira's explanation and horror at the possibility of somebody interfering with his free will. And on another level, I could see how he'd find that scenario oddly reassuring. Believing he was manipulated into going against his nature is an easier pill to swallow than to admit he genuinely tried to be a good guy-and failed in no less than an epic, "songs will be sung about this" fashion. Which is why is raging at Charles specifically more than at Moira, because Charles is the one that pretty much dragged him into the light, and then left him to try to figure it out by himself-and Magneto just doesn't deal well with failure. After a redemption arc consisting of everybody, including himself, just wishing Charles would come back and take over, having a group of mutants worship him like a messiah and placing their fates in his hands-it must have been irresistible.






They still haven't fully grasped the "enemies" concept, have they?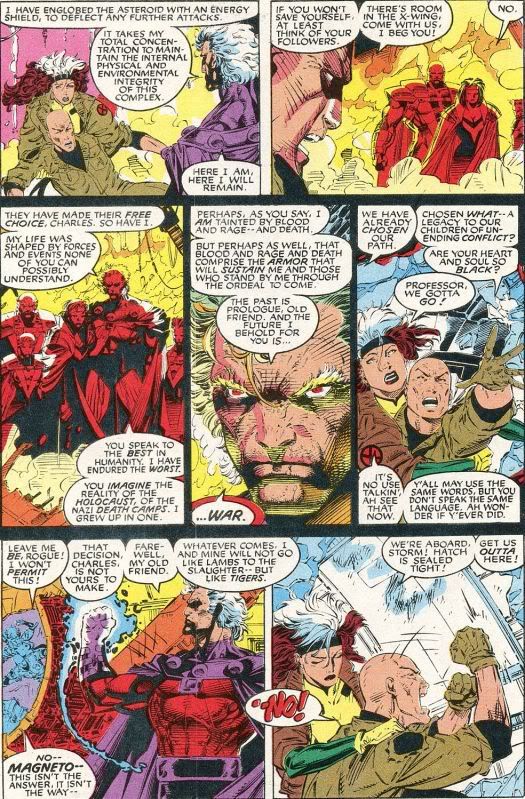 I should mention that there's this whole Magneto/Rogue thing in canon , so there's something about her being the one to drag Charles away that sets up all kinds of interesting visual paralells, though Rogue is the one who's more pragmatic and drama-free (she's saving the drama for when she and Gambit hook up) while Charles is the one who completely loses it. The other X-Men are probably as far from this charming tableau as their escape craft will allow, because awkward.




I feel like I should be snarking at the melodrama and Claremont-esque incredibly verbose "dying thoughts", but...I think there's something in my eye.